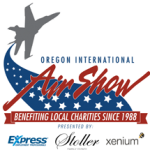 Donna Flynn started in aviation when she obtained her private license in the winter of 1987. She soon followed with a commercial license in 1989. While working through her licenses she caught the airshow bug while volunteering at the Vanderhoof International Airshow. Working on the flight operations side of the show, she was involved in other interesting projects including Joann Osterud's inverted flight records. Along with a partner in 1992, she started a float-based business in Fort St. James, British Columbia. This kept her busy in central and northern B.C. until 1998 when she started an airshow based business and in 2000 she made the move to Vancouver, B.C.
Along with another partner, she started Showline Airshow Services Ltd., which specializes in the Air Bossing and Flight Operations of an air event. Soon after she took over the business completely and during a typical show season she will work anywhere from 8 to 10 airshow events.
Donna has completed over 400 show and media days at over 40 sites in Canada and the United States. She has worked with all the North American jet and skydiving teams.