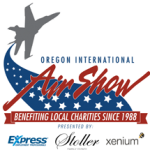 Drive-In Airshow and Tailgate Party FAQ's
What changes are taking place at the 2021 Air Show in McMinnville?
BRING YOUR OWN ICE CHESTS
Beverages (please drink responsibly) — in plastic or metal containers only, no glass.
Food and snacks — NO GRILLING
Small picnic tables and chairs
Folding chairs & blankets
Vehicles (cars or trucks up to 20') will park on runway or taxiway
RV parking is across Hwy 18 at the Evergreen Museum.
A limited number of "Drive-In Air Show - Oregon's Premier Tailgate Party" parking passes will be the ONLY tickets sold
No existing individual tickets will be sold or accepted
"Drive-In Air Show - Oregon's Premier Tailgate Party" ticket levels are: First Class, Business Class and Family Class
Guests must stay in their viewing area/parking space unless walking to and from port-a-potties
No static displays
If were are able to, we will add a limited number of vendors
No fireworks show on Friday; Friday's show will be the same as Saturday & Sunday, and INCLUDES THE THUNDERBIRDS AND F-22 RAPTOR
All traditional seating areas for this show have been discontinued as the result of current COVID guidelines. If you had already purchased these tickets, please reach out to ticketsales@oregonairshow.com for a refund.
What has not changed?
NOT Allowed: Glass, weapons, pets, camp stoves or cooking devices of any kind
Bring your sunscreen and enjoy the air show!
Oregon International Air Show - McMinnville and Hillsboro
Email: info@oregonairshow.com | Tickets: 503-629-0706
© 2021 Oregon International Air Show