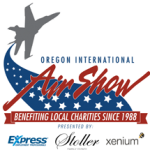 Indira Thackorie is the only "solo" female air show announcer working today in North America. She entered the air show community more than 15 years ago through the Canadian International Air Show in Toronto, Ontario, by working as a volunteer with the Media and Public Relations Committee. Since then she has contributed event management, public relations and marketing skills to numerous events and other organizations.
Indira is as a proud member of the Canadian Armed Forces and worked full time for 19 years. Having joined the Canadian Army at the age of 17, she attained the rank of Sergeant before commissioning as a Public Affairs Officer in 2008. She has operationally deployed twice; first with the United Nations in the Golan Heights, Israel (2002); and to Kandahar, Afghanistan under Operation Enduring Freedom (2006).
Beginning in 2010, Indira had the honour of serving as the Public Affairs Officer for the Canadian Forces Parachute Team, the SkyHawks, for three consecutive seasons. In this time she announced more than 70 air shows and public events across North America. Indira has also presented at other marquee events, including the Canadian Forces' Musical Salute at the Canadian National Exhibition in Toronto; and Fortissimo (military music spectacular), the premiere event of the summer tourist season in the National Capital Region.
Born in Trinidad & Tobago she moved with her family to Canada in 1990 and has since traveled extensively. She has also worked as a part-time professor at Humber College Institute of Technology and Advanced Learning. Indira's passion is people. Her enthusiastic speaking style comes from a professional communications background that is energized by a love of air shows. When you hear the sound of her voice, you'll know you're in the right place.