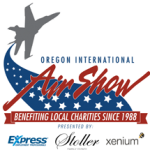 Jacquie traces her love of flying her to her earliest days, when, as a newborn, her first outing was to the Los Angeles County Airport Air Show. Her pilot father's interest in airplanes and flying inspired Jacquie to dream of flying. Jacquie spent many years dreaming of flying but was unable to do much about it until years later after working and saving her money. By the time she was 32 years old, she decided she was tired of hearing herself say "I wish I could fly and airplane".
Shortly thereafter a friend offered her a ride in a Pitts Special and she jumped at the chance to do a different kind of flying. With that first flight of loops, rolls, spins and a few other very scary maneuvers, she was instantly hooked on aerobatics.
She joined the International Aerobatic Club in August 2000 and for the next 4 years she flew aerobatic competition. She raced her biplane at the Reno Air Races from 2001 through 2004 to learn a whole new kind of flying.
Jacquie is now flying an Extra 300 monoplane. She made the switch from a biplane of many years to something new. Her beautiful red Extra is faster, more capable of gyroscopic maneuvers and has two seats! She can now give rides and share her love and passion of flying with others across the country. She holds a Commercial Certificate in land-based aircraft as well as a seaplane rating and holds a Level 1 ACE card which allows her to perform air shows down to the surface.
With over 3,200 flight hours and more than 1,100 coast-to-coast air show performances behind her, Jacquie has proven that she has the talent, stamina, discipline and guts to reach beyond the limits placed on her by naysayers. In fact, she broke even more stringent cultural boundaries when she became the first female solo pilot to perform at the 2010 Al Ain Aerobatic Show in the United Arab Emirates. Jacquie is a powerful inspiration to the millions of fans who realize that they too can accomplish great things in life.
"Our real job is to educate others of the vast opportunities in the world of aviation," Warda says, "and share our passion and make sure others learn about and experience what we love so much. We must help others get started down the path of achieving their dreams, and by simply giving a ride in an airplane, it works! It's a small gesture but makes a HUGE impact on the lives of many".