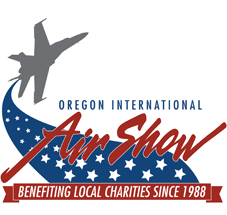 Oregon International Air Show
Exhibitor / Vendor Information - McMinnville Airport
August 19 - 21, 2022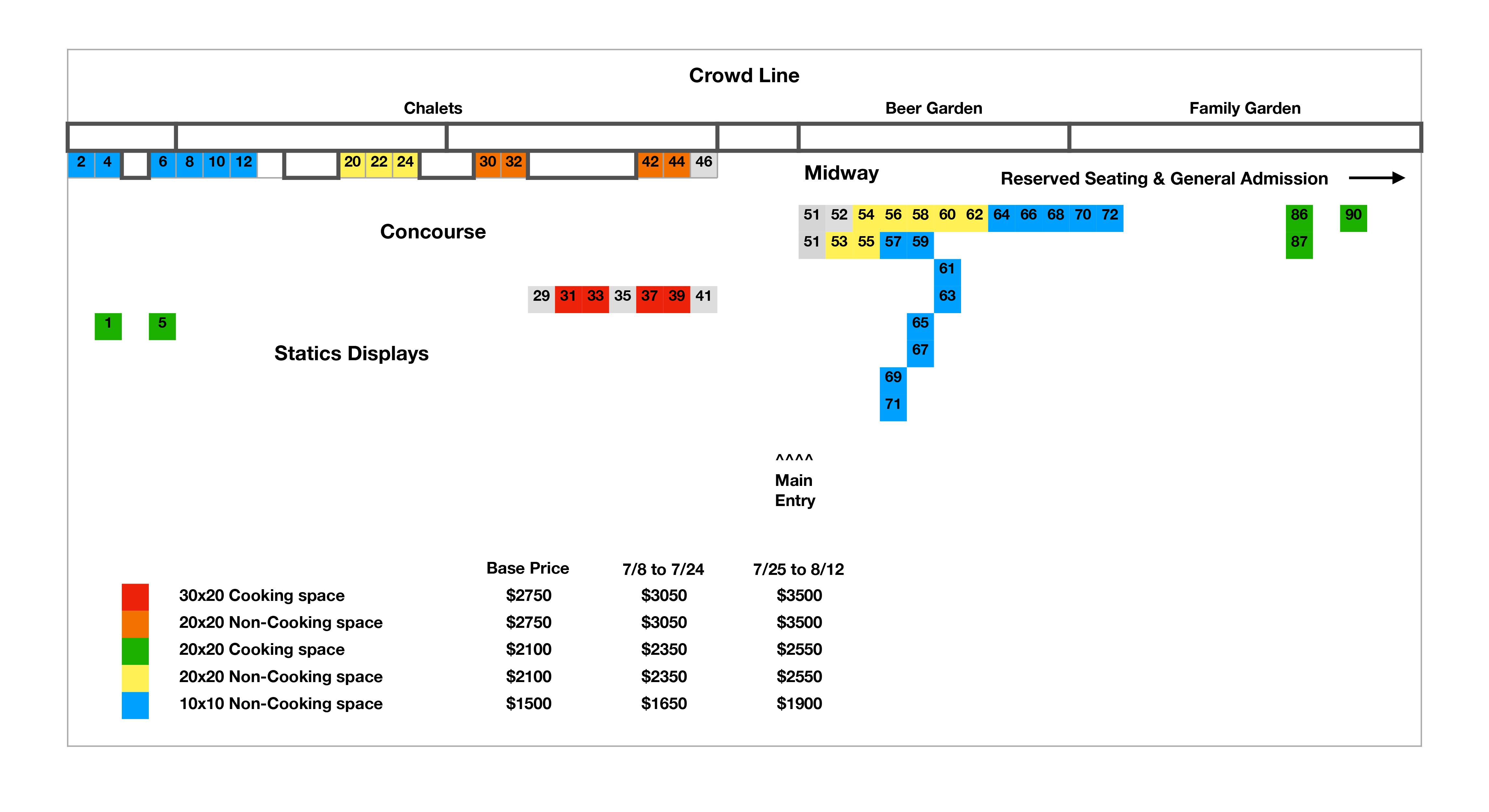 Event Hours:
Friday Air Show: August 19 - 12pm-5pm (estimated)
Saturday/Sunday Air Show: August 20/21 - 9am-4:30pm (estimated)
Exhibitor/Vendor Receives:
Space as contracted
4 Vendor Passes per day per space / Space sizes are 10x10, 20 x 20 and 30 x 20 / Vendor Passes allow personnel entry through the walk-in Vendor Gate 1 hour before Event Hours, but do not allow vehicle entry.
1 Vehicle Pass valid Friday/Saturday/Sunday / A Vehicle Pass allows Exhibitor/Vendor access to service booth (before and after airshow times) and to park in Vendor Parking area.
No other benefits are expressed or implied.
Payment Information:
100% of fees are due with application.
Online payments will be charged a $1 + 2% processing fee.
Cancelation/Refunds:
No refunds will be given after July 18, 2022
Requests received before July 18, 2022 will receive 50% refund
Fee is for space only. Exhibitor/Vendor must provide own "quiet-type" generator* and fuel for power needs, tents, tables, chairs, and signage. (No construction generators or re-fueling during event hours.) Submit photo of generator with application for Air Show approval.
TERMS AND CONDITIONS
All Exhibitors and Vendors are required to provide proof of commercial liability insurance in the amount of $1 million dollars and coverage for the additional insureds:
Oregon International Air Show, 3355 NE Cornell Rd., Ste. T-240, Hillsboro, OR 97124
City of McMinnville, 230 E Main St., McMinnville, OR 97128
Pre-Show Meeting: Thursday, July 28, 2022, 10 am - 12 pm at McMinnville Airport
Exhibitors and Vendors must attend the pre-show meeting in order to be briefed on safety practices involved with vending on an airport.
Set-Up
Exhibitors/Vendors will schedule an entry/set-up time with the Air Show manager
Thursday, August 18: 8am - 5pm or
Friday, August 19: 8am to 11am
Exhibitors'/Vendors' vehicles MUST ALWAYS BE ESCORTED by an Air Show manager anytime driving to/from booth/space is necessary.
OPERATING HOURS
Friday, August 19:
Food Courts must be open 12:00pm to 5:00pm
Sat./Sun. August 20/21:
BOOTH/EXHIBIT SERVICING HOURS
Fri., August 19:
Sat./Sun. August 20/21:
8am - 8:30am and 5pm - 7pm
Vehicles will not be allowed on the field after 11am on Friday or after 8:30am on Saturday or Sunday.
TEAR DOWN
Sunday, August 21: 5pm to 8pm
Bring your own lighting if tear-down will not be finished before dusk
SECURITY
Secure your valuables. Exhibitors/Vendors may leave their space set up overnight on Thursday, Friday and Saturday at their own risk. Air Show will have overnight security each night and the gates will be closed. However, airport tenants, businesses and their guests have 24-hour access. Air Show will not be responsible for lost or stolen items.
RULES FOR ALL EXHIBITORS AND VENDORS
All items for sale, display or give-away must be pre-approved by the Air Show.
Give-away items may not include t-shirts, hats or items sold by other vendors or by the Air Show.
No sales of tobacco or related smoke products, or electronic smoking or vaping devices.
No glass, knives, tattooing, body-piercing or related products or services.
Licensing restrictions do not allow the sale or distribution of Officially Licensed products or use of the Oregon International Air Show logo or City of Hillsboro logo.
Tents must meet Fire Marshall and Air Show standards and be secured.
Air Show recommends taking down tents each evening due to windy conditions that can occur at the airport. Air Show will not be responsible for any tents destroyed.
No Exhibitor or Vendor shall consume or have in their possession any alcohol or controlled substance including marijuana.
The Air Show reserves the right to refuse Exhibitor/Vendor space which violates community standards of decency or otherwise infringes on the rights of our patrons, exhibitors or members of the public or be deemed unsuitable by the Air Show.
No sub-contractors allowed in space without written authorization of Air Show President.
All selling, promoting, sampling or signature collection must remain inside the boundary of the rented space as defined by the Air Show. Breaking this rule could result in expulsion from the Air Show site immediately.
No dumping of contaminated water (bleach water, grease water, wash water) on grass or in storm drains. USE OF GRAY WATER TANKS PROVIDED. Vendor is responsible for removal of grease and used cooking oil.
Vendors must keep their space neat during event and pick up their garbage at end of event.
All vendors must have a standard ABC and/or K-Class fire extinguisher at their space/booth.
The Air Show reserves the right to change a vendor space to suit the needs of the Air Show.
Cooking Food Vendors - Per local Fire Department regulations, a K-Class fire extinguisher and a standard ABC extinguisher are required and will be inspected.
No Exhibitor or Vendor is approved to come onto the field until complete application documents, payment and COI have been received and approved by Air Show management.
Completed applications will include and by due no later than 30 days prior to airshow.
Exhibitor/Vendor Application
List of products or snacks (if applicable)
Certificate of Insurance (COI) including additional insureds. (If your COI expires before the Air Show, include a copy of the expired COI)
Dimensions and photos of your booth or exhibit showing front, back, doors, tongues on trailers, storage areas and location of generator, if applicable.
Food vendors must show location of cooking/heated surfaces, sinks, prep area, serving sides.
Menu List
Restaurants will also need to keep onsite:
Copy of Restaurant License
Copy of current Food Handlers' permit